"Celebrate your independence away from the ho-hum, hum-drum and anything stressful this July at The Sanctuary! Come explore new ways to express yourself by creating a Healing Mandala this month.  Come make new friends at our Summer Hike & Yoga series.  Ever wanted to explore the healer within you?  Then come to our Introduction to Energy Therapies Workshop and Reiki I & Reiki II Attunement Course.  The Sanctuary is bursting like a firework with wonderful new classes, incredible new healing services, certified training in Herbology and Ayurveda apprenticeship programs.  We are also proud to announce "A Glorious Night" Meeting your angels, and hearing answers from the other side with Sonia Jacqueline (a magical two-evening workshop).
Having successfully brought together over forty community members for our 2nd Full Moon Celebration last month, the reviews are in, and excited attendees can't wait to do it all again in November! Fresh fruit, treats, teas, blankets, candles, healings, psychic readings, yoga, Oceana hula, dancing, tambourines, and of course music by the very talented Fontain's Muse ~ ALL made for a truly magical and incredible evening under the stars.  When our full moons happen to fall on a weekend ~ The Sanctuary will open it's doors and hearts to you.  This has now replaced our WALK IN Clinic which thanks to your support grew beyond our expectations during the past six months. in order to better serve you and our healers we  will continue to offer all the services  and make it a real celebration  at our Full moon events.
This September the Sanctuary will begin the Ayurveda Apprenticeship training course for anyone who wants to learn this ancient system of medicine in order to understand their own health, help their family and friends or perhaps intern with us to become a practitioner. Students will learn the academic, clinical and practical application of Ayurveda in its entirety. Along with the deeper understanding of the philosophy, foods, body therapies, subtle therapies, our curriculum will provide hands on experience and immerse you completely in our thriving ayurveda practice, herb department and busy pancha karma clinic. Our goal is to share with you the wisdom and teach you how to integrate this knowledge so that you can see it working in your own life and be able to help others. Please call Ajita for more information and to apply for this course.
Also please note the incredibly exciting arrival of The Sanctuary's 1st ever Certified Professional Herbalist Course (coming this fall). With herbal medicines and alternative health care modalities on the rise, consumer demand for more authenticated information, and the need for qualified/certified practitioners in these fields are becoming of a higher & higher demand. This 3 month professional training journey will yield innumerable changes in your life, and those that you will impact. For more information and or to complete a Registration application - please visit us in person at 505 W. 1st Street  in Tustin or call us at (714)617-4593.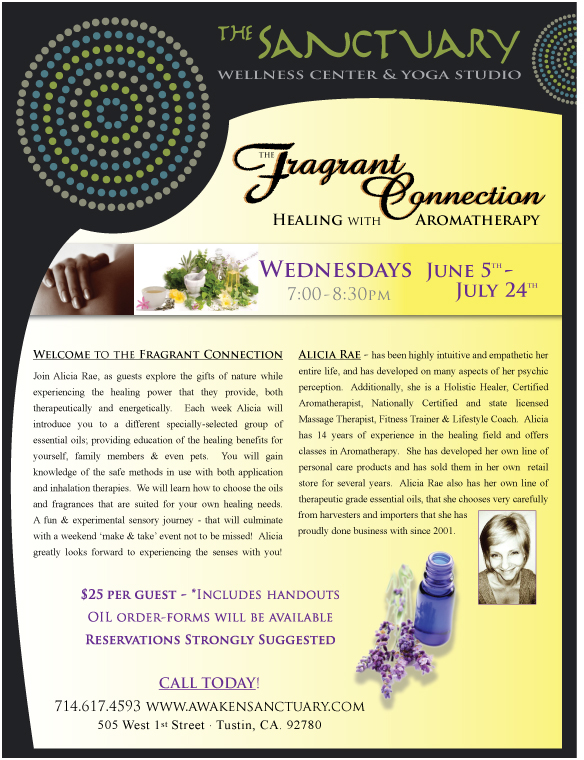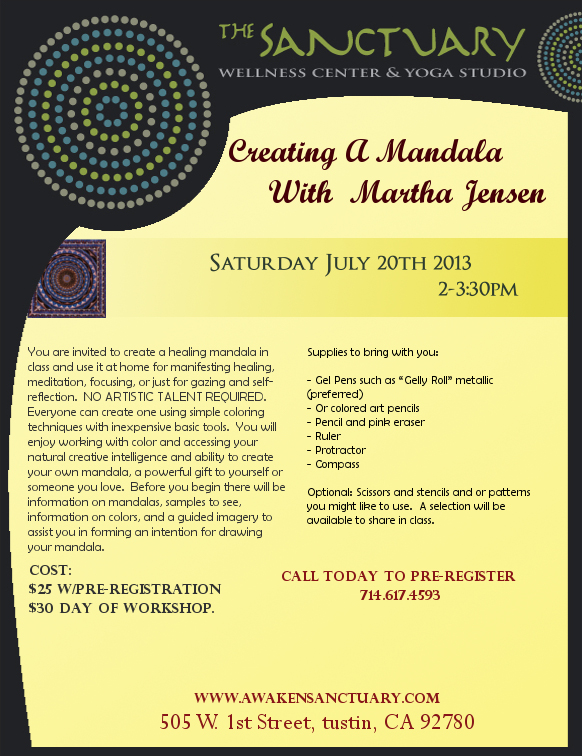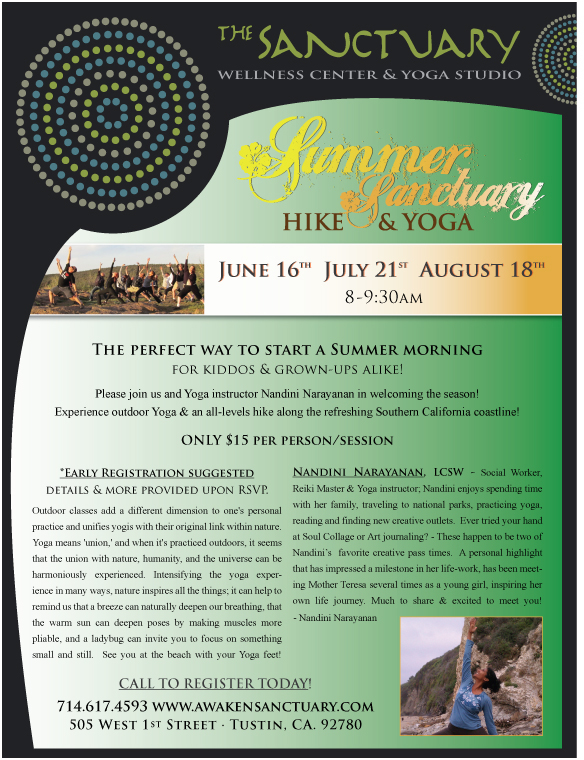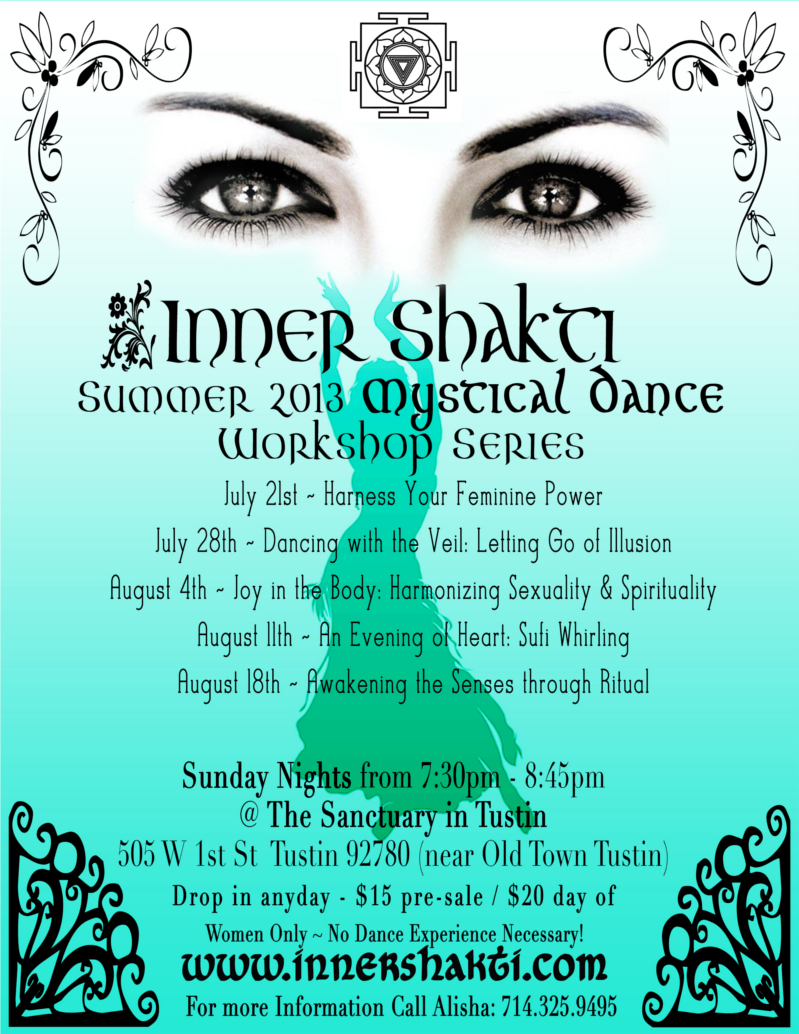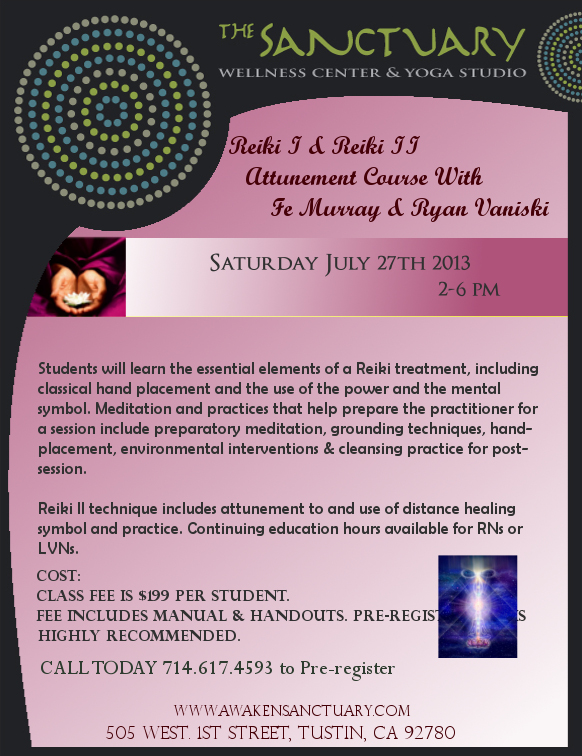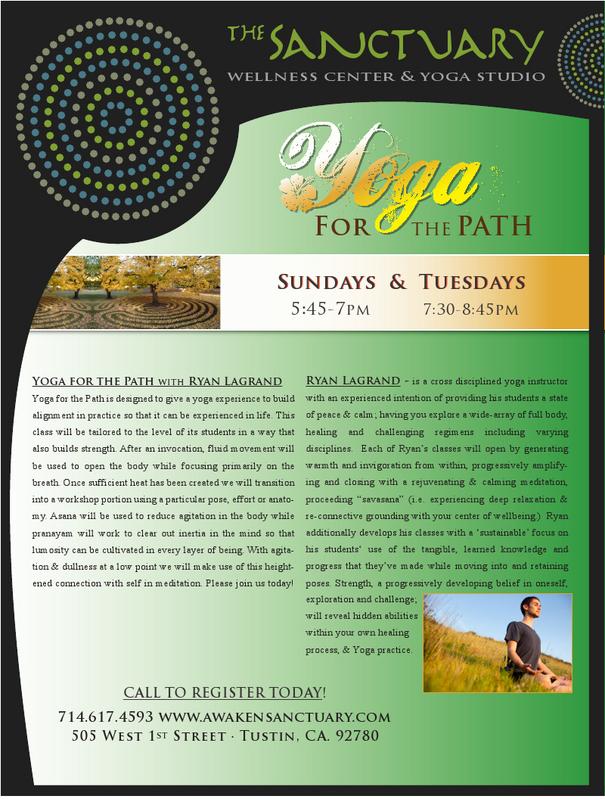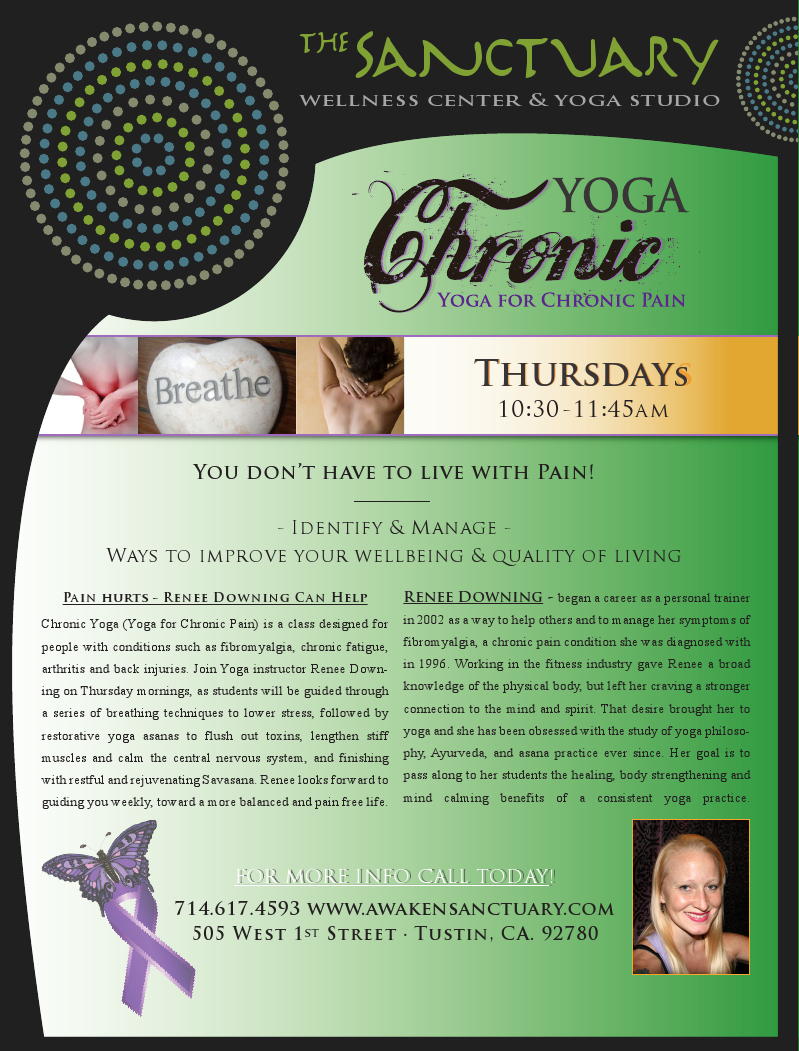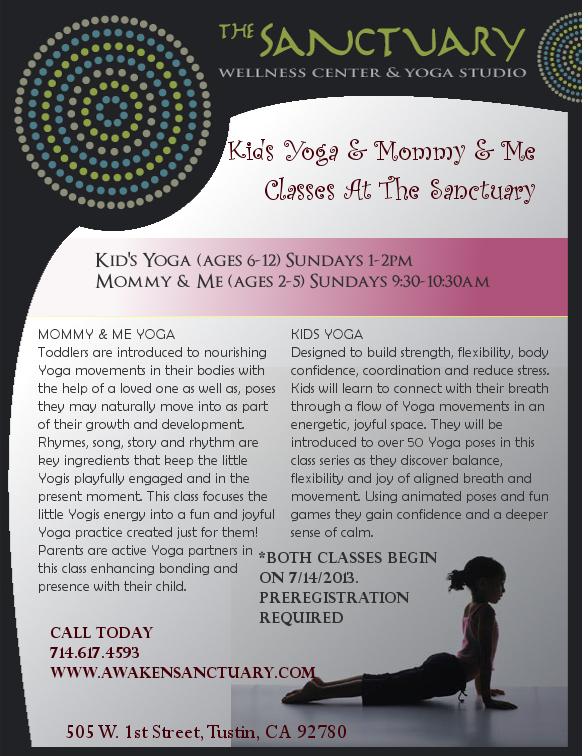 About The Sanctuary
The Sanctuary is a complete Holistic Wellness center and Yoga studio located in Old Town Tustin. We are dedicated to healing the Body, Mind, Spirit and addressing the root cause of any disharmony at all of these levels. In our Spa, we offer a variety of massage, facials and therapeutic body treatments. In our Ayurveda clinic, we offer complete Pancha Karma treatments, health consultations  and seminars to bring you the wisdom and tools of Ayurvedic medicine.  With our energy and intuitive healing services, we offer Reiki, Psychic, Intuitive sessions, classes and workshops which encourage and support those wishing to explore their higher consciousness and their own spiritual essence.
We also have  an Acupuncture clinic on Saturday mornings and Psychotherapy as well as support groups and workshops on topics related to health. The Sanctuary is inspired by Zen and Vedic tradition in a calming and sacred atmosphere. So come settle down in our quiet room with a cup of herbal tea after a massage or other healing session and take some time to nurture yourself.
Sanctuary Wellness Center &  Yoga Studio
505 W. 1st Street, Tustin, CA 92780
For Info, please call 714-617-4593 or email:  [email protected]